Instant Orthodontics with Porcelain Veneers
By Randal Watson, DDS on May 30, 2018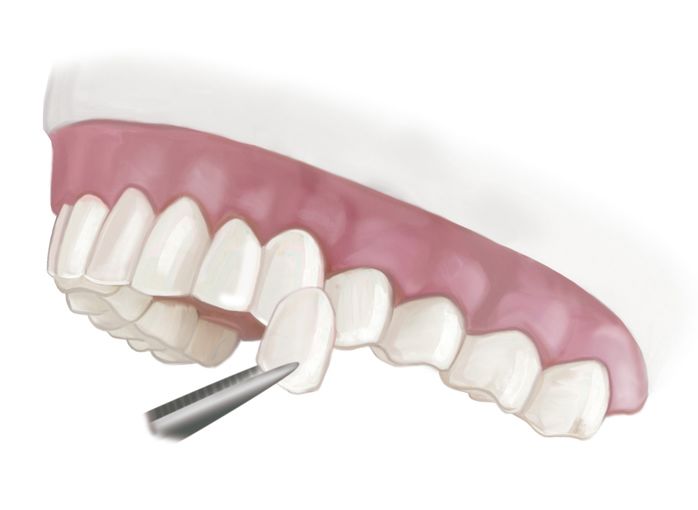 Porcelain veneers are thin shells of dental ceramic that are affixed to the front of your teeth. Thanks to porcelain veneers, a person is able to smile with renewed confidence, and few will realize that any cosmetic work was done. It's true: the outcomes of treatment are that effective.
Our Austin, TX dental practice has placed many porcelain veneers as part of cosmetic dentistry and smile makeover procedures. They've earned a reputation as being something like instant orthodontics. Let's explain why, how the treatment process works, and how instant orthodontics compares to actual orthodontic care.
Why "Instant Orthodontics"?
Porcelain veneers have been nicknamed instant orthodontics because of how dramatic the treatment results have been. Placing a few select porcelain veneers can make your smile look completely straight and pristine, as if you have undergone an actual orthodontic treatment.
Problems That Porcelain Veneers Can Treat
Porcelain veneers are extremely versatile, and are used by cosmetic dentists to address the following types of dental flaws:
Chips
Cracks
Stains
Gaps
Twists
Asymmetry
Size problems
Keep in mind that porcelain veneers are a cosmetic treatment. As a result, they can only be used to address flaws of an aesthetic. More serious kinds of dental problems will require advanced restorative procedures.
The Porcelain Veneers Procedure
During the porcelain veneers procedure, a dentist will need to remove a little bit of the patient's tooth enamel. This is simply to accommodate the porcelain veneer and ensure a natural appearance. Since porcelain veneers are very thin, less than 1mm of tooth enamel will be removed.
Once the enamel is removed and the tooth is prepped, the cosmetic dentist will then take an impression of the patient's tooth. It is from this impression that the porcelain veneer will be crafted at a dental lab. Once the completed veneer is adhered in place, the treatment is complete.
The Results of Porcelain Veneers
By getting porcelain veneers placed, a person's smile can be dramatically enhanced. Since the veneers are semi-translucent, light affects them much the same way that light affects your natural tooth structure. Up close or from a distance, in natural light or artificial light, a porcelain veneer looks totally natural.
The veneers themselves are quite durable, lasting about 10 years with proper oral hygiene and maintenance. Replacing veneers is a simple process that repeats the initial placement procedure.
Instant Orthodontics vs. Actual Orthodontics
Instant orthodontics is ideal for minor problems with smile appearance that are aesthetic in nature. Actual orthodontic care is better when a patient's tooth alignment affect their dental health. Malocclusion is linked to a number of problems, including pain when biting and chewing, teeth grinding, TMJ disorders, and gum recession.
Tailoring Dental Treatments to Meet Your Needs
Given how instant orthodontics and traditional orthodontics differ, it's important that people with crooked teeth come to our practice in person for a consultation. We will work with patients closely to help them get the right treatment for their dental care needs. By customizing each procedure to the patient, we can help each person's smile look its best and be its healthiest.
Learn More About Porcelain Veneers
For more information about porcelain veneers and how they can help you smile with confidence again, be sure to contact an experienced cosmetic dentist. We will help you get the treatment you need that enhances and beautifies your smile.
Related to This
Message
Our Staff
Reach out today to set up an appointment with Dr. Randal Watson and his experienced team.
"

We strive to make every experience a positive one.

" Randal Watson, DDS, PA