Treatment Options for Chipped Teeth
By Randal Watson, DDS on May 30, 2017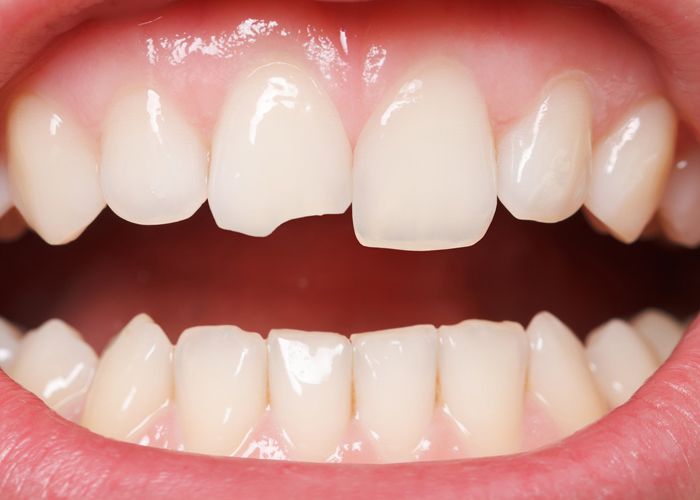 Dental care means properly tailoring treatments to meet the needs of patients. In the case of chips and cracks, this involves addressing the cosmetic flaws and considering how to simultaneously improve a patient's dental health.
Our state-of-the-art restorative dentistry center serving Austin is well equipped to meet these needs. We'd like to take a moment to consider the different kinds of procedures that are available to treat chips and cracks of varying degrees.
Dental Bonding
When the chip or fracture affecting your tooth is predominantly cosmetic in nature, the ideal treatment option is typically dental bonding. Dental bonding is a procedure that involves the painting of tooth-colored resin onto a tooth. The resin is applied and polished so that it is indistinguishable from your natural tooth structure. This masks imperfections from view in a very natural way, allowing patients to smile with renewed confidence.
Porcelain Veneers
For more serious chips and cracks that are still predominantly cosmetic in nature, porcelain veneers may be an ideal option to consider. Porcelain veneers are thin shells of dental ceramic that are adhered to the fronts of the teeth. When in place, porcelain veneers can mask cracks and chips from view, making the tooth look pristine and free from any sort of damage. Since the material is semi-translucent, it reacts to light just like your normal teeth, making them very difficult to detect.
Dental Fillings
When the damage to a tooth is no longer just cosmetic, the use of a dental restoration is an ideal option. For minor damage to a tooth, dental fillings are ideal. These are the same restorations used to treat simple cavities. The filling rebuilds the compromised tooth structure and restores a person's ability to bite and chew normally. Tooth-colored and metal fillings can be used, with the ideal option determined by the extent of the damage.
Inlays and Onlays
For more substantial fractures, inlays and onlays are better suited to restore the damaged tooth structure. These dental restorations are much larger than traditional fillings, able to replace the cusps (biting surfaces) of the teeth if needed. Like fillings, inlays and onlays come in both metal and tooth-colored forms.
Dental Crowns
For major fractures that compromise most of a tooth's structure, a dental crown tends to be the best option. It is also the last resort in these cases. Dental crowns are caps that are placed onto a tooth that's been seriously damaged. In the process, this protects the underlying tooth structure from damage and harm while restoring a patient's ability to bite and chew normally.
What If a Tooth Cannot Be Fixed?
In those instances in which a tooth cannot be fixed, the ideal option is extraction. When this is the only viable option, patients and their dentists can go over different options for addressing tooth loss, which may include a dental bridge or even dental implants.
During the consultation process, you can learn more about your ideal options for dental treatment.
Learn More About Cosmetic and Restorative Dentistry
For more information about your different options for treating chips, cracks, and other kinds of fractures, be sure to contact our cosmetic and restorative dentistry center today. We will help you smile with renewed confidence.
Related to This
Message
Our Staff
Reach out today to set up an appointment with Dr. Randal Watson and his experienced team.
"

We strive to make every experience a positive one.

" Randal Watson, DDS, PA